AlphaESS launches brand new SMILE-G3 at Smart Energy Conference & Exhibition 2022, Australia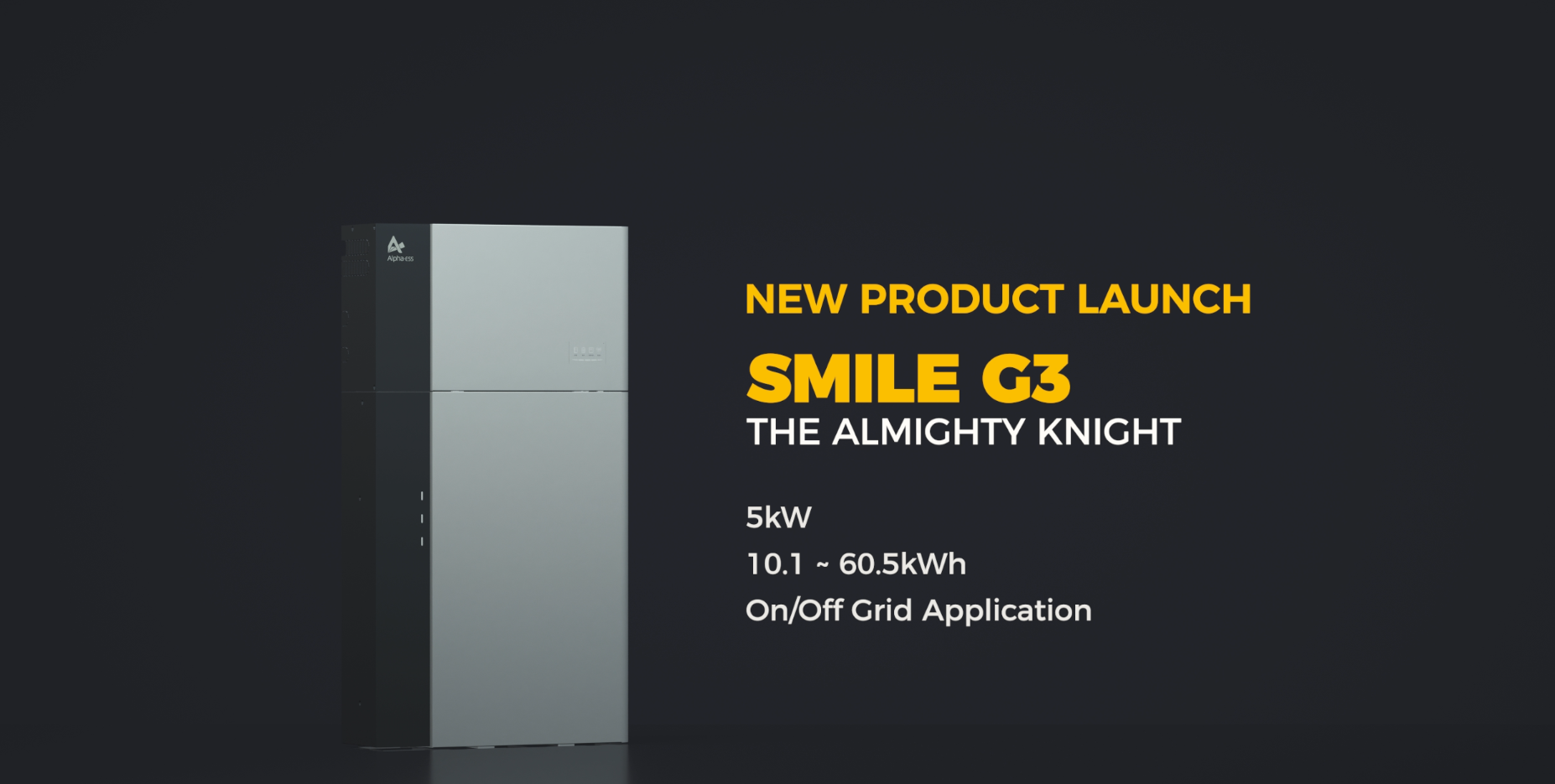 NEW PRODUCT LAUNCH – SMILE G3
On May 5th 2022, at the SEC expo, AlphaESS rolled out its brand new SMILE G3 in Australia. This residential energy storage system includes a 5kW hybrid single-phase inverter and a 10kWh battery module, expandable to 60.5kWh. This product is able to capture more precise data for stricter VPP requirements and work in an off-grid scenario with parallel function.
YOUR ALMIGHTY KNIGHT offers
❤ 200% PV Input
❤ Grid-Forming Function
❤ Off-Grid Parallel Operation
❤ Faster Response for VPP Control
❤ Saving 30% Installation Time
❤ 150% Backup Overload for 30''

The new star has absolutely attracted many visitors, including Mr. John Grimes, the CEO of Smart Energy Council, who has come along to the AlphaESS booth expressing much interests in the features of this eye-catcher and thinking highly of its potential distinguished performance in the market thanks to its solution to pain points in home energy. The Almighty Knight will also be released in Europe and across the world afterwards, but not that quick at the InterSolar expo, which is coming soon in a couple of days and AlphaESS welcome more friends and partners to the InterSolar booth to discover more suitable products for Europe market and talk with regional sales people for specific request in person.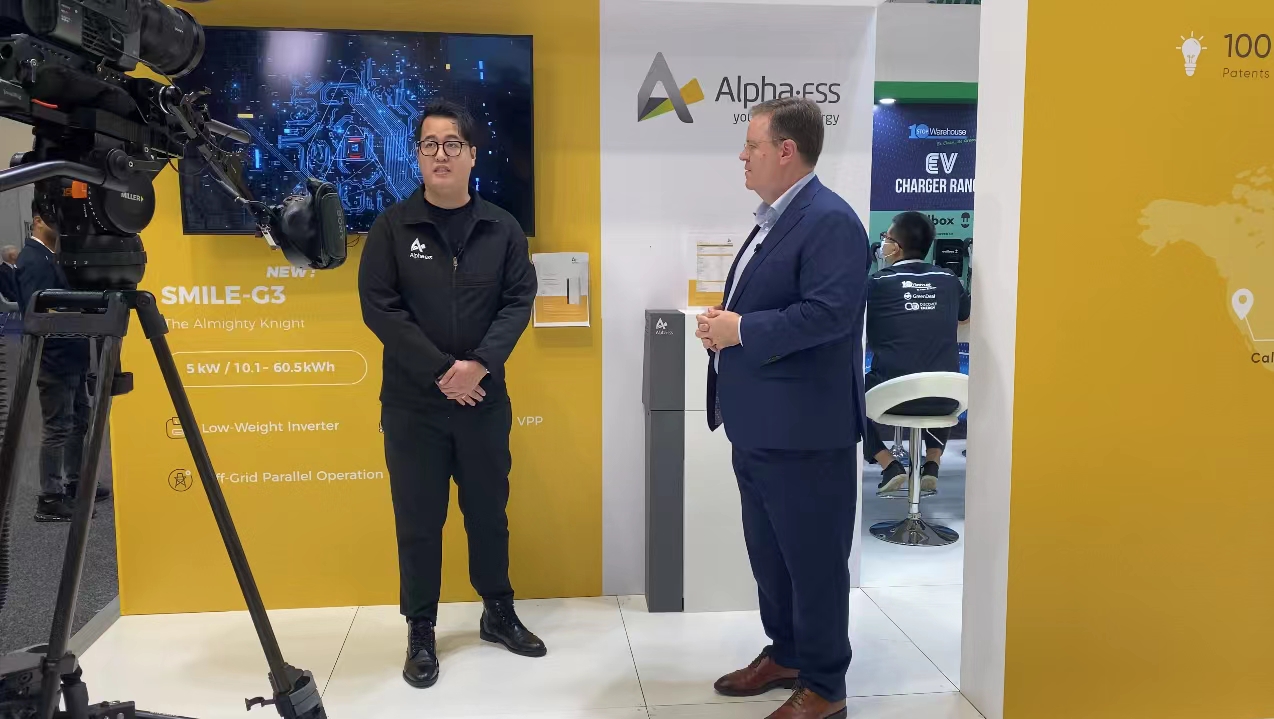 Click here to see the G3 video New Product Launch AlphaESS SMILE-G3 (First release in Australia) - YouTube and write to info@alpha-ess.com for more details.
INNOVATION AS A GROWTH DRIVER
There were many other energy storage systems of AlphaESS presenting at the expo, covering 1kW portable power station to 30kW hybrid PCS solution.
BlackBee 1000, the 1kW/1kWh portable power station, supports 12 devices simultaneously for outdoor activities as well as emerging power supply for families. This is a lifestyle change-maker and the dream device for adventurers.
SMILE5 10.1kWh Our hot-selling product battery is able to bring an independent power network to your house. It can store the excess solar power, enable your essential appliances to work during the blackout and maximize your PV self-consumption to cut your power bill.
SMILE-S6-HV & SMILE-T10-HV The 8.2kWh high voltage battery module can be configured either for single (6kW) or three-phase (10 kW) applications, both on-grid & off-grid.
STORION H30 For C&I, here comes the unique product on the market with its 30kW hybrid-coupled system for off-grid in Australia. The three-phase inverter is able to be configured to 60kWp, DC input and support unbalance load. The cost-effective solution is designed for the outback, farms, and remote areas.
STORION-T30 The large industrial container on the market for its 30kW AC-Coupled system in Australia. Also, T30 could be programmed to discharge and meet the energy demand on project basis, designed for small businesses.
TOP BRAND PV AWARD CEREMONY
On the second day of the expo, Mr. Peter Novak, Sales Manager of SunWiz, represented EUPD Research to deliver the Top Brand PV Storage Award 2022 to AlphaESS. The award means that AlphaESS is ranked among the Top PV Brands in Australia according to the results of a survey carried out by EUPD Research among installers on brand awareness, customers' choice, and distribution.
This is not the first time AlphaESS is listed on the award in Australia. Through these years, the AlphaESS brand has become synonymous with trust and reliability. Mr. Ricky Jiang, the key account manager AlphaESS, received the certification and expressed the appreciation to all AlphaESS fans: "This recognition from EUPD highlights our commitment to excellence in product and service. We feel so grateful for all the support we have received from our brilliant customers and partners."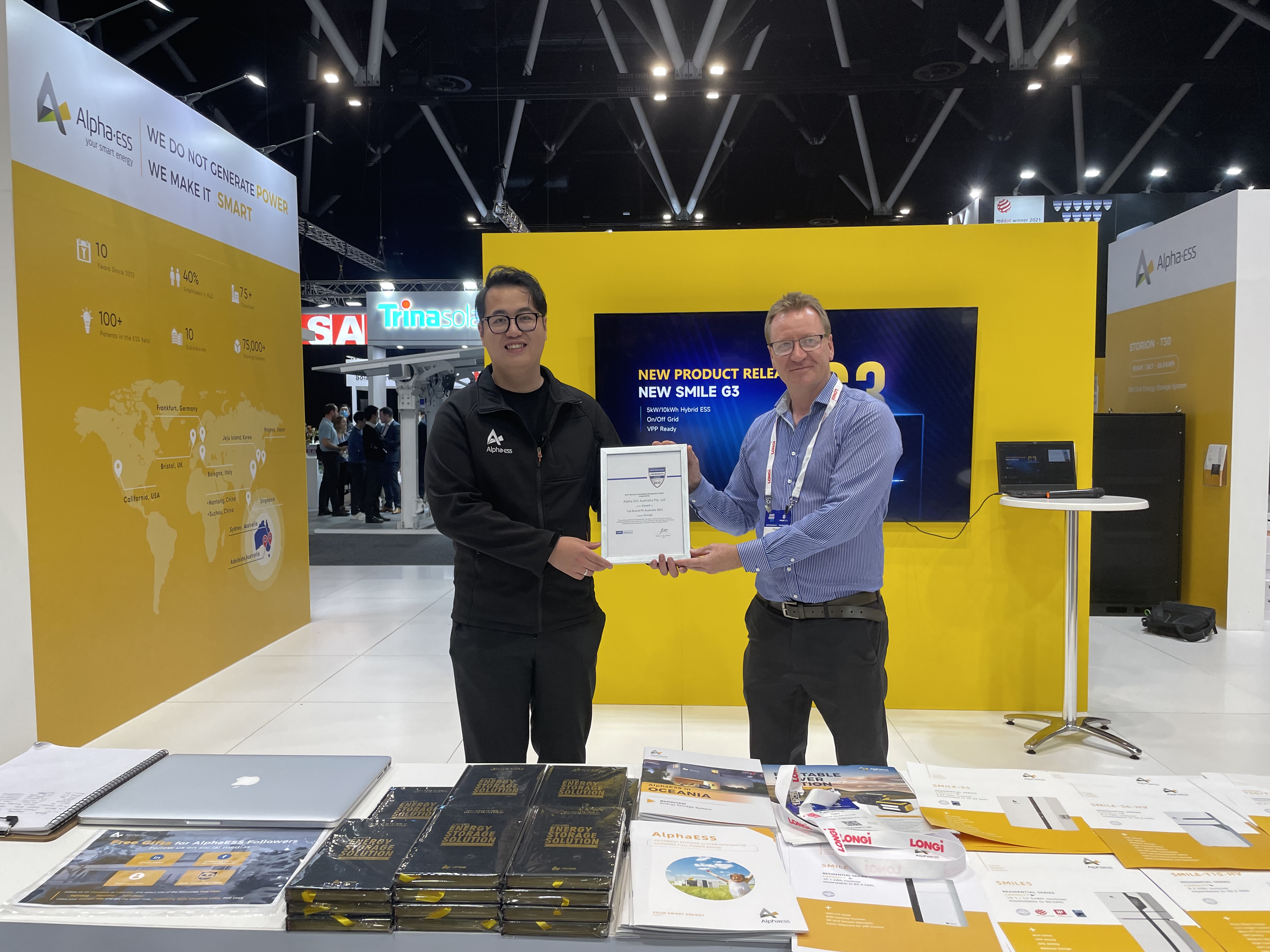 Buoyed by this independent recognition of the company's brand power and business success in the global PV industry, AlphaESS is making smart, clean energy accessible to every person around the globe.
Can an opportunity for the planet, also be an opportunity for your business?
Here we are, regenerating Australia.